Saying Goodbye With Sushi
Chef Toshio Hosaka is retiring. But first, his friends are getting together to throw him a going away party.
---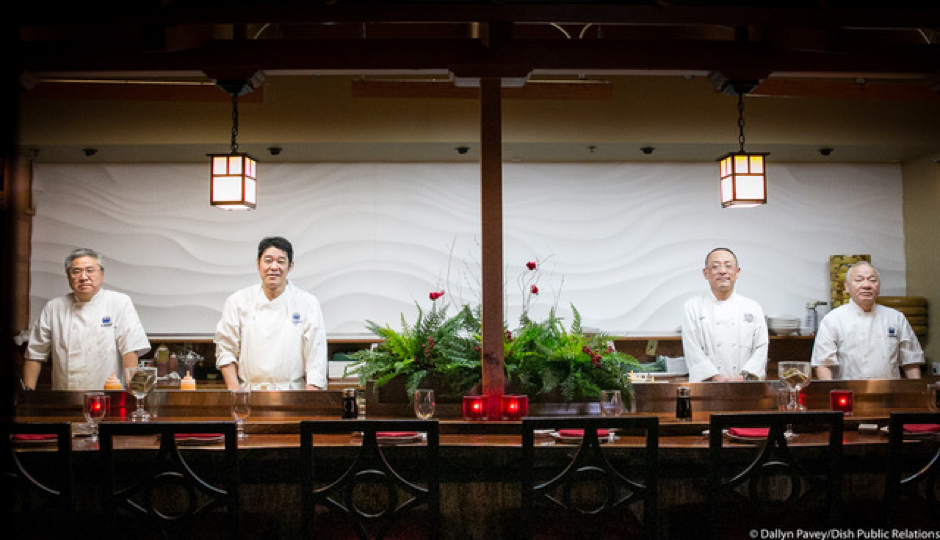 For certain people out there, that photo above is a kitchen dream team — four sushi chefs, all long-time friends and compatriots, who have worked for years to bring serious sushi and Asian fusion to the Philly suburbs.
In order, from left to right, it's Toyoji Yamada, Koichi Aoyama, Akihiko Takeshima and Toshio Hosaka, and they all work now at restaurants in the Win Signature Restaurants group–namely Teikoku in Newtown Square, Azie in Media and Azie on Main (Villanova). But back in the day? They did their time at Morimoto, Pod and the now almost legendary Genji sushi bar on Sansom Street where they all met.
These guys are, essentially, part of the living institutional memory of sushi and Japanese cuisine in Philadelphia. And on Sunday, March 26, they're all getting together for one dinner to say goodbye to one of their own.
Executive sushi chef Toshio Hosaka of Teikoku is retiring at the end of the month. And in order to send him off in proper fashion, all the chefs are getting together for one night only, on March 26, at Teikoku, for a four-course collaboration dinner to celebrate. Here's what the menu looks like:
Sushi Chef Celebration Dinner
Sunday, March 26th, 6:00pm
4 courses for $50 per person, plus tax and gratuity
First Course:
Daikon Radish Wrapped Lobster
plum sesame vinaigrette, seaweed salad
Second Course:
Teikoku Signature Japanese "TFC" Fried chicken
Tempura battered in soy, mirin and sake
Third Course:
Chef's Choice Sushi Platter
7 pieces of nigiri, 1 pc of each: kanpachi, hamachi, tai, sake, ebi, cho-toro, maguro,
and a spicy tuna roll
Fourth Course:
Mochi Ice Cream
green tea, strawberry, mango
That first course? The daikon and lobster? That's chef Hosaka's signature dish. And they'll also be serving it all month long at all three restaurants for $16. But that's less important than the dinner as a whole–this incredible gathering of talent in one place at one time. Nights like this don't come along that often, so if you're interested, tickets for the event will run you $50. You can reserve your spot by calling Teikoku at 610-644-8270. 
Win Signature Restaurants [Official]
---