Get in On These Han Dynasty-South Philly Barbacoa Collaboration Dumplings
All proceeds go to the PAUWR, and they're available only by delivery through Caviar.
---
Han Dynasty's Han Chiang is an immigrant. He hates Trump, too — even the mention of the president's name could get you kicked out of his restaurant. He just wants everyone to get along.
South Philly Barbacoa's Ben Miller and Cristina Martinez? They're activists, mouthpieces for the city's working immigrant community, the brains behind the Popular Alliance for Undocumented Workers Rights.
And tomorrow, the three of them will be making dumplings together.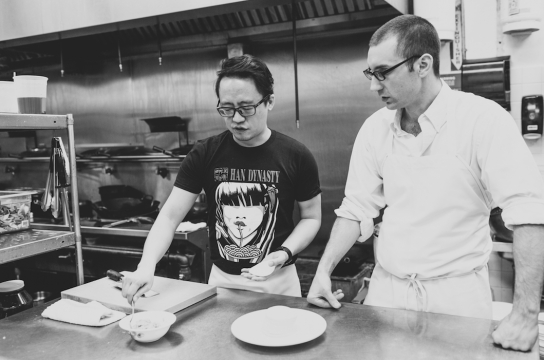 On March 1st (only), Chiang and Miller will be in the kitchen together stuffing pancita and lamb barbacoa (plus a vegetarian option) into Han's dumplings in chili oil. And the only way to get your hands on some is through Caviar.
The best part? It's for a good cause. Han Dynasty will donate all proceeds toward the PAUWR.
Dumplings start at 11:30 a.m. Set a reminder on your phone.
---
---