There's A Big Garces Foundation Food Event Happening On March 24
But if you buy your tickets now for the Garces Foundation benefit, you can save some money.
---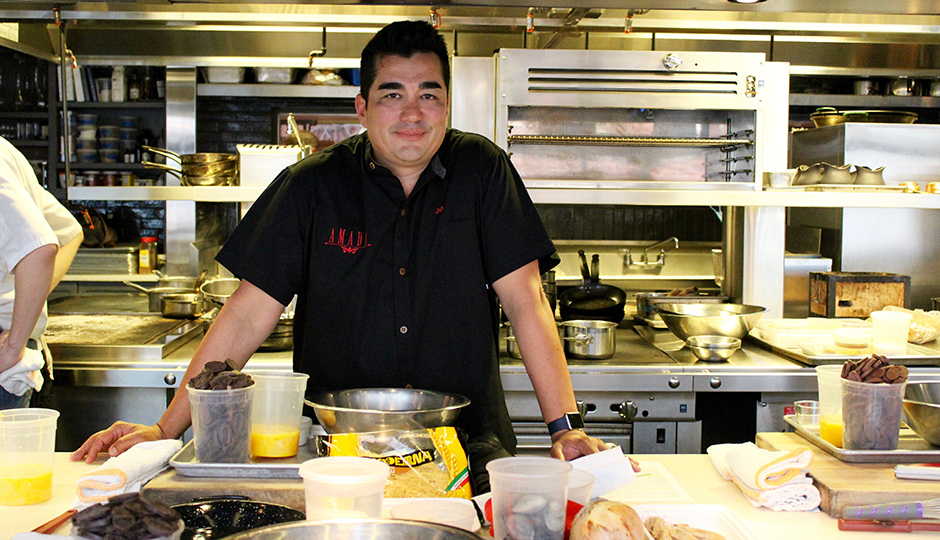 I know it's still February, but it already feels like spring outside. And spring is when all the big food festivals start popping back up on the calendar. So it just seems like a good time to remind everyone that on March 24, at the Loews Philadelphia on Market Street, Jose Garces and a whole bunch of chefs are going to be getting together for a big party and event to benefit the Garces Foundation (organized in 2012 to help Philly's immigrant community–particularly those who work in the food service industry).
So it's a big party. All the best people are going to be there. And the price of your ticket is going to help immigrant restaurant crews and their families. How could it get better?
How about if you were able to save a few bucks on your ticket if you bought it before the end of the month?
Between now and February 28, Eventbrite is waiving all their ticket processing fees for the event. Which means you'll save about $15 on a regular ticket. Not bad, right?
So here are the rest of the important details. The event is happening from 7pm-10pm on Friday, March 24. Tickets will run you $150 for general admission, $200 for early admission and $250 for VIP, which gets you into a preview tasting and the afterparty with the chefs on the 33rd floor of the hotel.
For the event itself, there'll be cocktails, live entertainment, a silent auction, remarks from Garces himself. And, most importantly, lots of chefs and restaurants all putting out their best snacks and small plates. Here's what the lineup is looking like right now:
Think Local, Give Local: A Benefit For The Garces Foundation
Stations from Garces restaurants including: 24, Amada, Amada New York, Bar Volver, Buena Onda, Distrito, Distrito Moorestown, Garces and Sons coffee, Garces Events, Garces Trading Company, JG Domestic, The Olde Bar, Tinto, Village Whiskey, Volver
A Mano, Townsend Wentz
Abe Fisher, Yehuda Sichel
Aldine, George Sabatino
Alma de Cuba, Douglas Rodriguez
Baba's Brew, Olga Sorzano
Bank and Bourbon, Thomas Harkins
Bing Bing Dim Sum, Ben Puchowitz
Bistrot La Minette, Peter Woolsey
Blackfish, Chip Roman
Brauhaus Schmitz, Jeremy Nolen
Capofitto and Capogiro, Stephanie and John Reitano
Cheu Noodle Bar, Ben Puchowitz
DiBruno Bros., Emilio Mignucci
Ela, Jason Cichonski
Fat Ham, Kevin Sbraga
Fork, John Patterson
Gilda's Biscotti, Gilda Doganiero
High Street on Market, Ellen Yin
Hungry Pigeon, Pat O'Malley
Junto, MacGregor Mann
Kanella, Konstantinos Pitsillides
Kensington Quarters, Damon Menapace
La Calaca Feliz, Tim Spinner
Lacroix, Jon Cichon
The Little Bird Bakery and Cafe, Jessica Nolen
Mission Taqueria, Andrew Sabin
Osteria, Jeff Michaud
Pub and Kitchen, Eli Collins
Sampan, Michael Schulson
Spread Bagelry, Larry Rosenblum
Subarashii Kudamono Gourmet Asian Pears, Holly Harter
Townsend, Townsend Wentz
Vedge, Rich Landau and Kate Jacoby
Vernick Food & Drink, Greg Vernick
Vetri Family of Restaurants
Weckerly's Ice Cream, Andy Weckerly
Whetstone Tavern, Jeremy Nolen
Will BYOB, Christopher Kearse
Wm. Mulherin & Sons, Marqessa Gesualdi
Zeppoli, Joey Baldino
That enough to convince you? Good. Remember: that ticket fee is only being waved for a few more days, so get yours soon at the link below.
Think Local, Give Local [Get your tickets here]
---