Georges Perrier is Back in the Kitchen (Again)
He's doing a series of special bouillabaisse dinners at Baril.
---
Although, really, Georges Perrier has never really left. The man who brought Philadelphia all the opulence of Le Bec Fin has been a fixture in this scene for decades, and even after leaving that storied space, he still pops up everywhere. And whether he's hanging out at a bar in Rittenhouse, dropping in on a class at COOK, or doing a dinner at the restaurants of any one of his many proteges, Perrier has never truly gone away.
But now, he's coming back with a regular gig: doing a monthly bouillabaisse dinner in the kitchen at Rittenhouse Square's French bistro, Baril.
S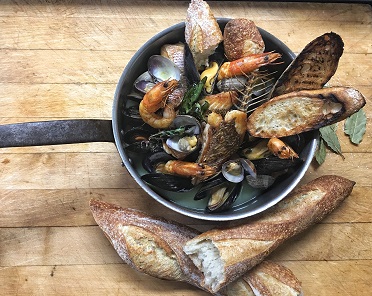 ee, Baril's chef-owner, Michael Franco, considers Perrier to be his mentor. And now he'll get to work with him again as, on the first Friday of every month, Perrier will be in his kitchen, working with Franco and Baril's chef Ken Wallace, to put together a classic Provencal bouillabaisse of mussels, red snapper, clams, shrimp and potatoes served in a saffron broth with slices of grilled baguette and rouille.
The bouillabaisse will be served family-style at $25 per person. There will also be live music from Drew Nugent and the Midnight Society. And if you're interested (because the first Friday in March is coming right up), you can call Baril for reservations at 267-687-2608.
Baril [Official]
---