Restaurant Review: Petruce et al
The Petruce brothers almost opened yet another pizza joint in Philly. Here's why we're very glad they didn't.
---
Philadelphians have a lot of things to be thankful for, and one is that Justin and Jonathan Petruce aren't trying to sell them pizza. There's been some confusion about this. "When people hear that we have a restaurant with a wood oven and grill, the first thing they ask is if we make pizza," says one of the brothers. "Actually, they're more like, 'What kind of pizza do you make?'" says the other.These are understandable assumptions. The Petruce brothers in fact
wanted
to open a pizza parlor. They even went to Italy, in 2010, to learn how.
"But then everybody in Philadelphia decided to open a pizza place," Justin says.
So they just kept on cooking for other people. Between them, the Petruces have worked — occasionally together — at Mémé, M Restaurant, Fish and Little Fish. In March, they hung out a wooden shingle etched with their own name.
Petruce et al. packs plenty of talent into its Latin appendage. Partner Tim Kweeder blossomed into a wine geek worth keeping tabs on at A.Kitchen/A.Bar, and George Costa is one of those bartenders with a following. But the marquee belongs to the brothers, who have bided their time just long enough. These guys might sling a mean pizza, but I'll rest happy never knowing as long as they're this good at everything else.
Start with … oh hell, start with anything. The menu is sectioned into small, medium, large and bona fide family-style "et al." plates, and everyone I ate with liked everything we ordered from every single part of the menu. This energetic restaurant — which spins local indie-rockers the Spinto Band on its upbeat playlist — scratches the city's defining itch for unfussy refinement that's rooted in rusticity.
There was cool chicken liver, whipped as smooth as pudding, set off with sweet-sour rhubarb. A meaty rabbit terrine, minimally cut with rabbit liver and pork fat, glistened on a plate speckled with flash-fried fresh chickpeas, lightly charred sweet spring onions, and soft curds of Cloumage cheese that electrified the lean centerpiece with a lactic zing. Carrots three ways (raw, pickled, and grilled whole on the height-adjustable grates of an Argentine-style grill that distinguishes much of the cooking here) landed with pistachios in a bagna cauda whose heady anchovy intensity fostered one of only two regrets here — which was that I didn't order the Caesar salad.
The other was that I overlooked the menu's $3 line item for hearth-baked sourdough — because it was wedged between Petruce's address and the raw-fish disclaimer in minuscule type at the bottom. The proprietors hid it on purpose, Jonathan later confessed, when they couldn't keep pace with bread orders. It's since been moved up on the menu. That's a critical improvement, since so many dishes beg for bread to sop up the juice.
The quail and lamb breast were two. The former came on a bed of wild rice — some boiled, some fried to puffy crisps — whose disappearance left a pool of cherry liquid mingled with foie gras that we would have fought over to wipe up. And the unctuous lamb was plated with soft goat cheese and a red-wine reduction bursting with all the concentration and sweetness that Kweeder mostly steers away from in his low-alcohol, food-friendly list. Some crusty bread might have consoled me when the crispy, grill-charred bark of the lamb's fatty side was all gone.
A rivetingly flavorful Lancaster chicken with grits and pancetta lardons, sauced with egg yolks thickened over a double boiler, was another plate I hated to send back unwiped. Ditto the pristinely fresh Spanish mackerel — thick chunks of it, taken from a five-pound fish — served with fried baby artichokes in a luscious almond-milk sauce.
But enough of this broken record. You get it: No matter how much I ate of the Petruces' deeply layered comfort cooking, embroidered everywhere with finely wrought details (fried field peas here, charred ginger there), I only wanted more. Good thing desserts hit the same high mark, led by Justin's light dulce de leche.
I'll confess that not all of Costa's cocktails inspired further thirst. The hop vodka-based I.P.Eh? was both delicious and clever (not to mention sly, $14 being a pretty penny for a simulacrum of ale). But the nog-like Smoke & Mirrors might have moved me more in winter, and a couple brighter concoctions were too acidic. Just the same, I'll line up for anything Costa makes with brown liquor. Wine is pricey at triple retail, but there's value in Kweeder's offbeat three- and five-ounce pours, which aren't marked up any further.
The Petruces, meanwhile, may be holding firm on their no-pizza policy, but they did bring something else back from Italy. It's a textbook-simple lasagna: tomato and béchamel. Served on a hot skillet that transforms the bottom layer into a delicate cracker, it is, like the restaurant it comes from, an instant classic.
---
Petruce et al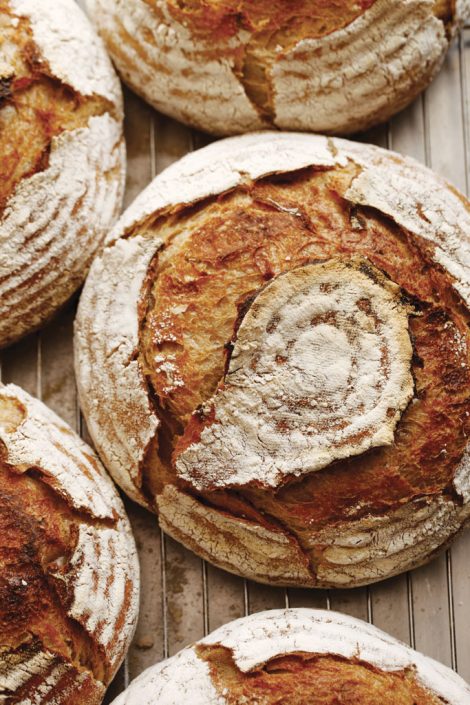 ---
3 Stars out of 4 Stars – Excellent
Petruce et al [Foobooz]
This review by Trey Popp was originally published in the June 2014 issue of Philadelphia magazine.
---