Tale of the Tape: Jake's Sandwich Board
---
Center City Philadelphia isn't quite a cheesesteak desert but besides the new Steve's and several options at the Reading Terminal, most of your cheesesteak options come from food carts. If you're looking for a roof over your head, somewhere to sit and cool Philadelphia imagery on the walls, then Jake's Sandwich Board might be what you're looking for. As we continue our Year of the Cheesesteak, we see how the Midtown Village cheesesteak and sandwich shop measures up.
Jake's Sandwich Board
122 S 12th Street
215-922-0102
Roll: Carangi seeded roll.
Meat: Sliced sirloin.
Cheese: Provolone.
Onion: Fried ribbons of onion.
Price: $8.50
Pro Tip: Spice up your cheesesteak with Jake's Fire Sauce. It's made with sriracha, chili pepper, olive oil, garlic and vinegar. It's good enough you should get a bottle to take home.
The Verdict
The regular cheesesteak, they call it "Jake" is just ok. A bit greasier than we would like though we can't complain about the amount of met on the sandwich. This is a hearty meal.
If you're thinking cheesesteak at Jake's Sandwich Board, you're better off going with something that comes with a sauce. This is where Jake's excels. The Philly Wasabi with wasabi spread and crunchy onions has a lot of flavor happening. Or you could go with the Garlic Bomb, which is a garlic lover's delight, topped with a garlic spread and packed with breaded and fried garlic cloves. Just make sure to eat a mint or a dozen.
---
Jake's Sandwich Board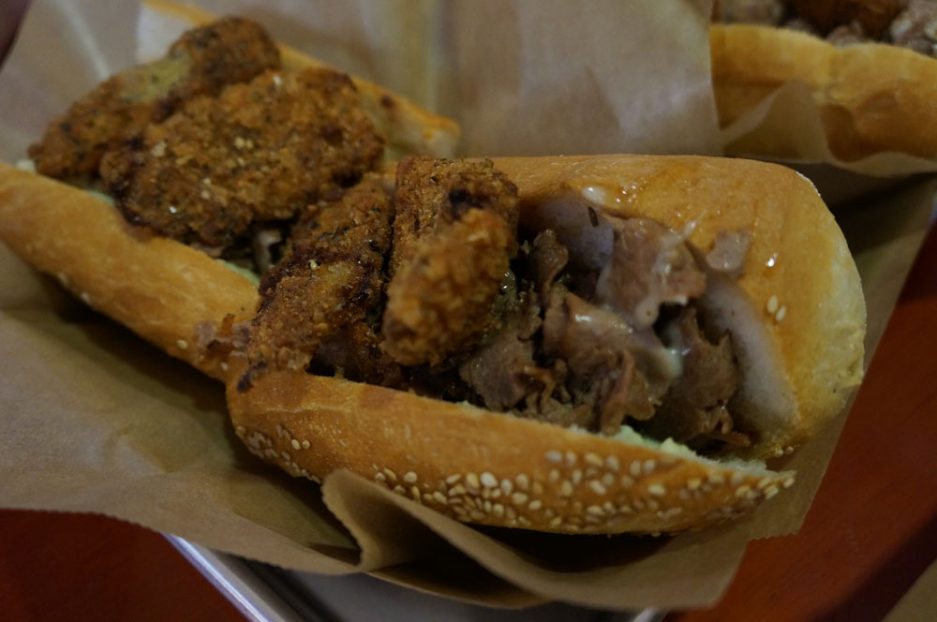 ---
Jake's Sandwich Board [Foobooz]
Year of the Cheesesteak [Foobooz]
---