First Look: Bar Volver
---
Last week, we dropped some knowledge on you in the form of Bar Volver's menu, and over the weekend we paid our first visit. For those not following along, Volver is Jose Garces' newest venture in the Kimmel Center, a ticketed dining experiment (with opening night this coming Wednesday) as yet untested in Philadelphia waters. One feature of this format is that the beautiful bar at Volver doesn't offer a traditional a la carte menu, but what they do offer is sophisticated snacks worthy of Gordana Kostovski's heavy-on-the-bubbles wine list.
Sure, you could spend a perfectly happy hour with a bottle of bubbly and a pot of caviar or a selection of oysters, but just as the Kimmel Center was designed to not have a bad seat in it, there are tasty options for those on a beer budget as well. Three little tasmanian sea trout brochettes glazed with rum and black garlic mustard are like fish candy–caramelized outside and with interiors as creamy as mini Milky Ways. And they go down just as fast. Wagyu beef tartare, accompanied by a little pot of shallot, caper, quail egg yolk, and tomato confit looks precious, but feels appropriately rich and substantial mixed to your liking and spooned onto soldiers of rosemary focaccia. Perhaps the best values on the menu are the cured meats and hunks of cheese, each served with that same focaccia, otherwise unadorned. Though neither really demonstrates the talents of the kitchen, they're well curated and distinctive and the portions are generous enough that they don't necessarily have to. There's also a cart full of petit fours, a 7-year-old's dream of colorful macarons, marshmallows, canneles, and other dainty little sweets. It is very pretty, but we'd rather enjoy our calories in cocktail form.
Scott Rodrigue's bar program is made up of customized classics. His twist on a Gold Rush–the Truffle Rush–matches Old Grand Dad bourbon with truffled lavender honey and lemon, the truffle providing an understated earthiness to a drink that is otherwise pure springtime. In the Broad & Spruce (a riff on a daiquiri) Bicardi goes golden and frothy with fresh pineapple juice, Liquor 43 and a shower of fresh nutmeg. The Smoked Marcona Old Fashioned pairs Old Overholt rye with house-made almond bitters and a "rinse" of creamy alder smoke, for a little bit of showmanship. Beefeater-based Chili Basil Smash is the summery essence of basil punctuated with tomato-chili-oil polka dots. Overall, they're bright and punchy and they taste – dangerously – more of their fresh and herbal accompaniments than of booze or bitters.
They fit well in the airy, elegant space and they're are perfectly pleasant diversions to fuel Spruce Street people watching. We'll see how this menu dovetails with that of the dining room once we start hearing reports back later this week. But in the meantime, here's how things are looking right now at Bar Volver.
---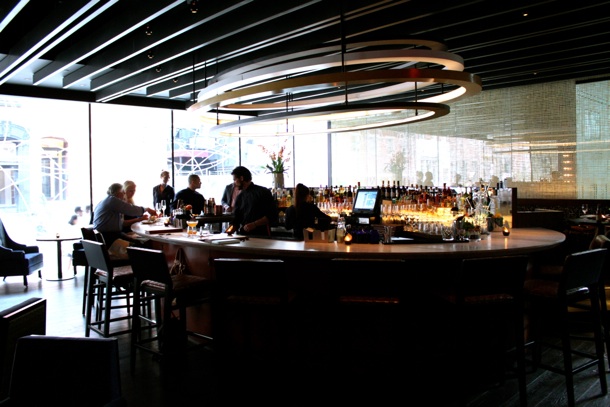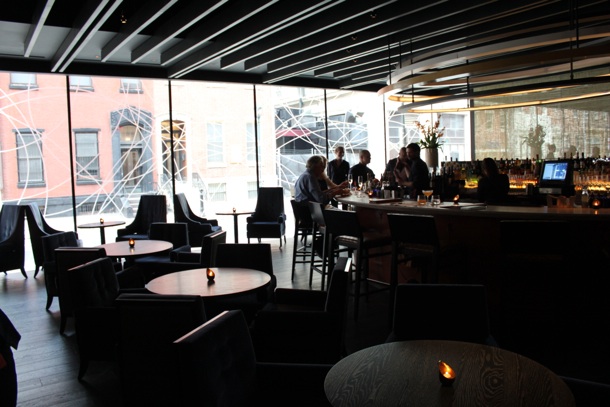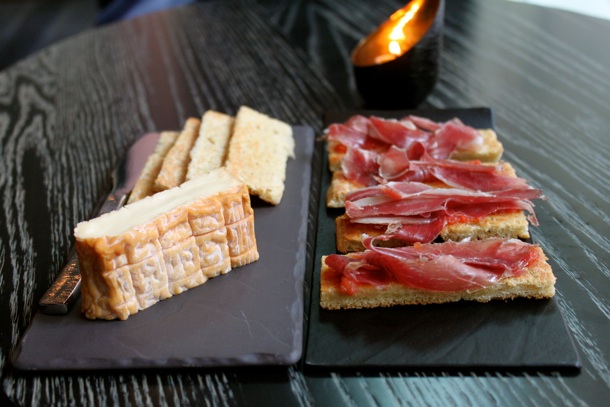 ---
All Volver coverage [f8b8z]
---