About Last Night: Pork Hearts And Awesome Sauce
---
Two of my favorite places to eat in Philadelphia competed Monday night at our 23rd Foobooz Open Stove event. It was a knife fight between Cheu Noodle Bar's sous chef, Chad Smith, and Will BYOB's sous chef, Craig Russell. I asked Chad before we began if he was going to be doing anything Asian-inspired, or rather, Cheu-esque. And the soft spoken chef looked up, said "nope," and went back to his prep. I walked over to the other side, where Craig was furiously assembling his amuse bouche, and I observed, "This doesn't look very 'Will.'" to which he responded, "You won't see a single shaved vegetable on our plates tonight." Now this, obviously, was not a dig at Chris Kearse. He just wanted to make sure the world knew that this was his food, done his way. The same went for Chad: this wasn't going to be an extension of Ben Puchowitz's style—this was going to be all Chad.
So it began–Open Stove XXIII, a battle between two powerhouse restaurants in a restaurant obsessed city, with food by sous chefs who may be as talented as they come. And if you missed being there for the actual event, don't worry. We have pictures–which don't taste quite as good as the food that was served at COOK, but are the next best thing.
Team Cheu: Chadwick Smith (right) and his sous, B.V. (the sous at Pennsylvania 6).
Team Will: Craig Russell (right) and his sous, Kyle.
Team Will's amuse bouche was not only aesthetically gorgeous, but it was also a perfect bite of umami spliced by vinegar: charred sourdough, fenugreek, lobster emulsion, trout roe, and pickled ramps.
Team Cheu's amuse bouche, was a simpler taste of buttery goodness: "mush" brioche, escargot, confit lemon, and chive.
First Course Secret Ingredients
Given the fact that Chad cooks primarily Asian-inspired fare, and Craig, traditionally, cooks French-inspired fare, we decided to screw with them by making them cook Italian-inspired fare. Our first basket of secret ingredients consisted of smoked Provolone and Calimyrna figs:
---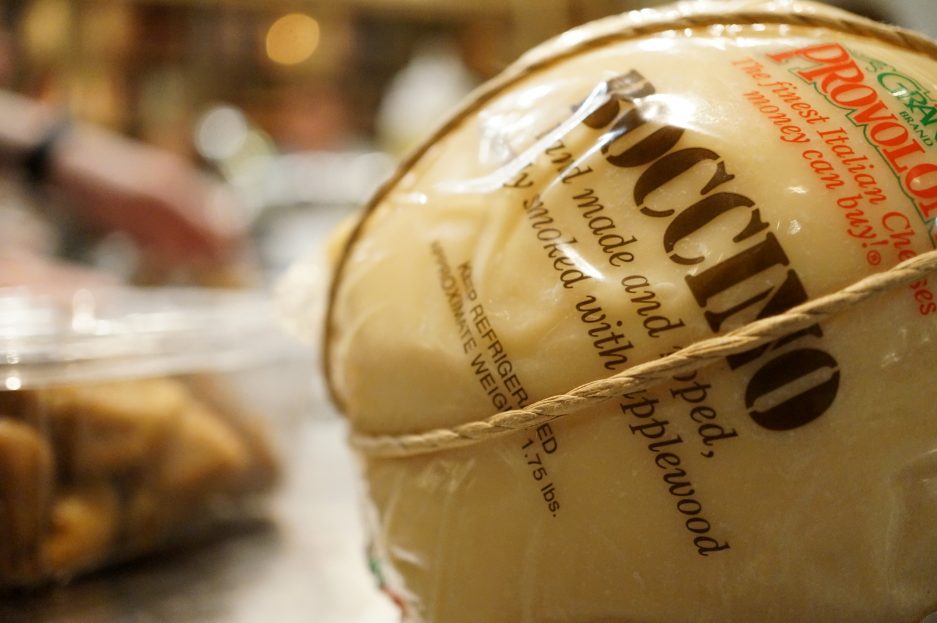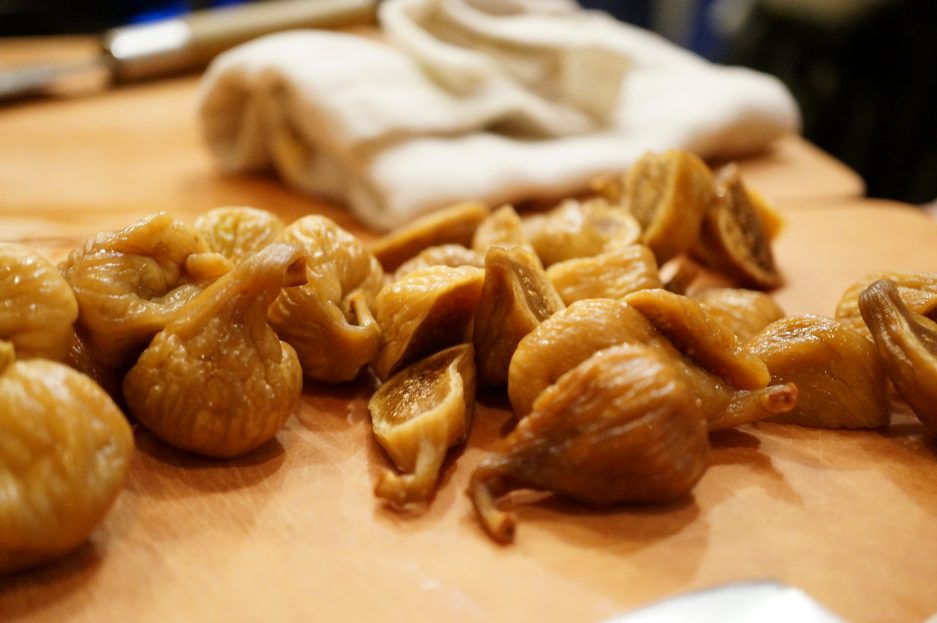 ---
Much to the distress of Team Will, scallops were part of their first course. I snuck over to Kyle and inquired, "Cheese and seafood, eh?" to which he responded, "Fuck you."
But they played a beautiful hand with what they were given. In no time they put together a lovely plate of sliced scallops, puffed quinoa, fig-dashi puree, blistered provolone wrapped around asparagus, all under a light flurry of shaved, dried pork heart.
---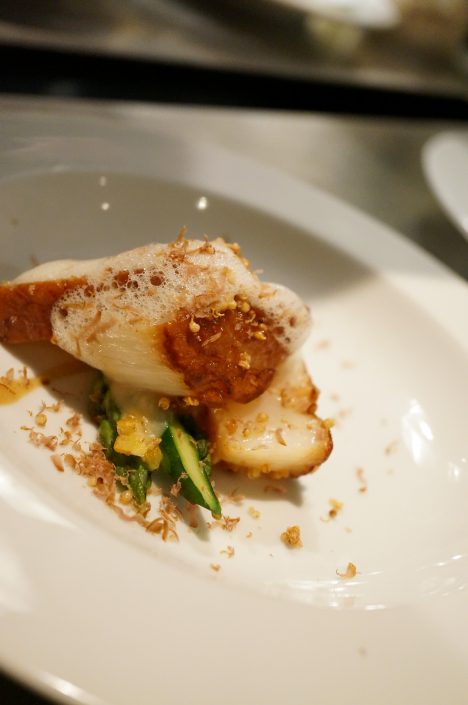 ---
Team Cheu responded without a blink. Their game plan from the get-go was to highlight local and seasonal vegetables. They made a simple salad of shaved carrots, radishes, figs, truffle oil, and herbs atop a puree of smoked provolone and ricotta.
---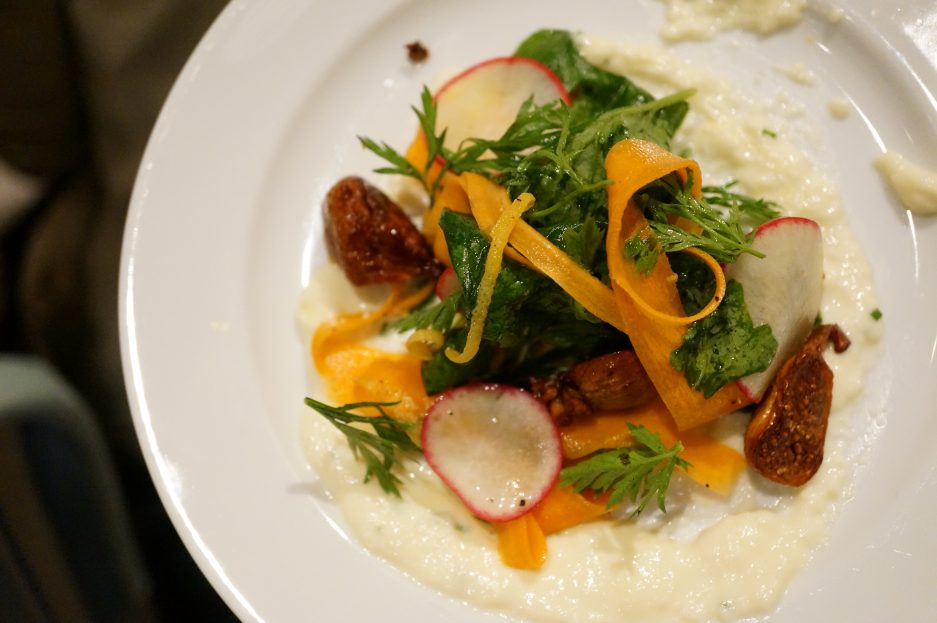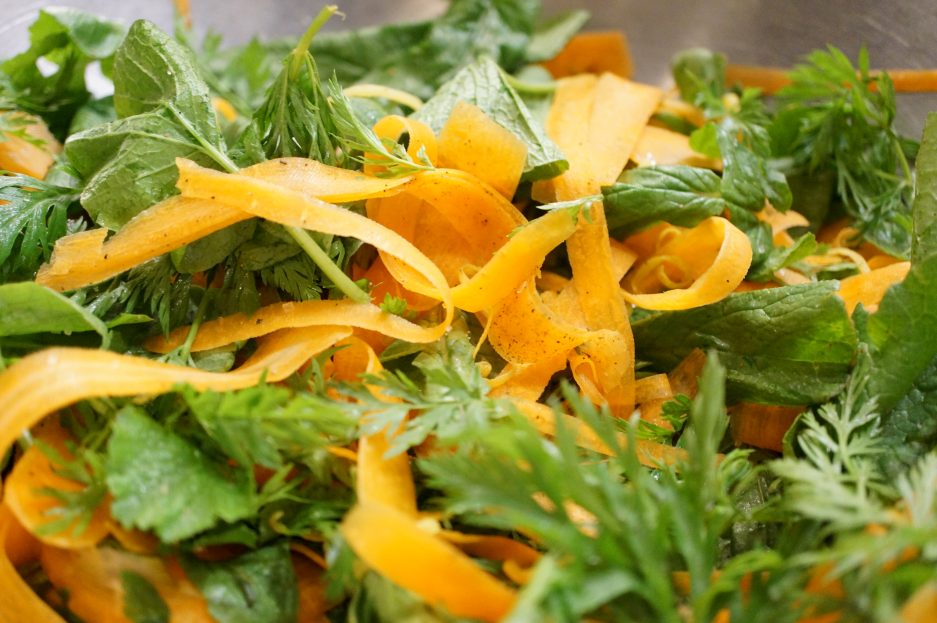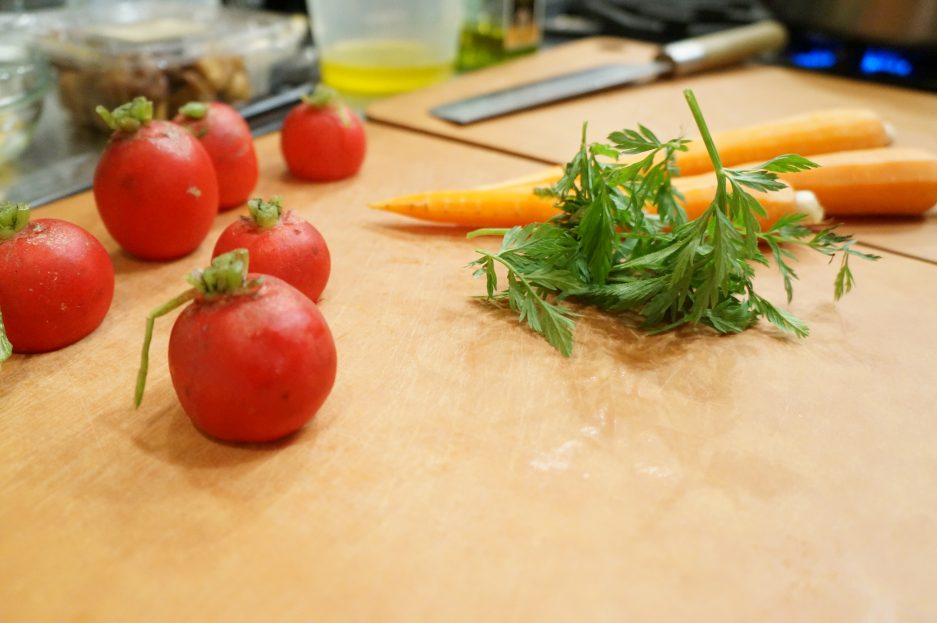 ---
Oh and for you food nerds, this is what a dried pig heart looks like:

Second Course Secret Ingredient
We kept the Italian theme rolling in the second basket: Italian polenta and fresh oregano.

But before we began, we incorporated two more challenges:
Each team may remove two ingredients from their opponents mise en place.
If either team wants extra credit, you have to use a weird beer.
1 bottle = 1 extra point
2 bottles = 2 extra points
Let the games begin.
---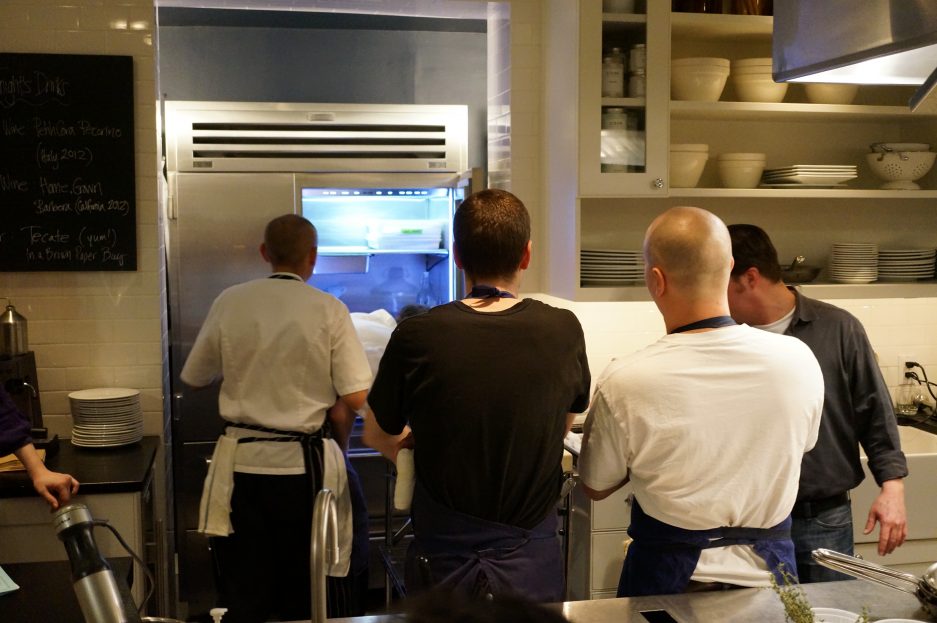 ---
Weirdly enough, both teams had secret stashes of mostly everything stolen from them—so not all was lost.
---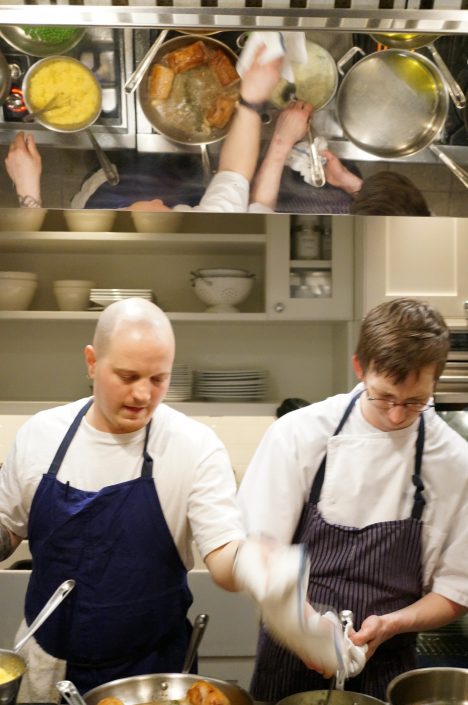 ---
Here they are, playing nice.
Team Will brought along a chicken ballotine, and if you don't know what that is, allow me to educate you:
It's an old-school cooking technique in which the chef debones a whole chicken, pounds it out, adds some sort of forcemeat (sausage, påté, terrine, etc.), rolls it, ties it into shape, and poaches the meat until fully cooked. The end product is an impossibly perfect bite: tender dark meat, meaty white meat, a little fat, and the skin, crispy and thin, all together in every single bite. It's definitely labor intensive, and Craig decided to bring that to Cook's kitchen.
When all was said and done, they created a dish that was homey and comforting, but at the same time, elevated and nuanced: Chicken ballotine stuffed with Italian sausage, buttered peas, oregano and cider infused polenta, chicken jus, and morel mushrooms.

---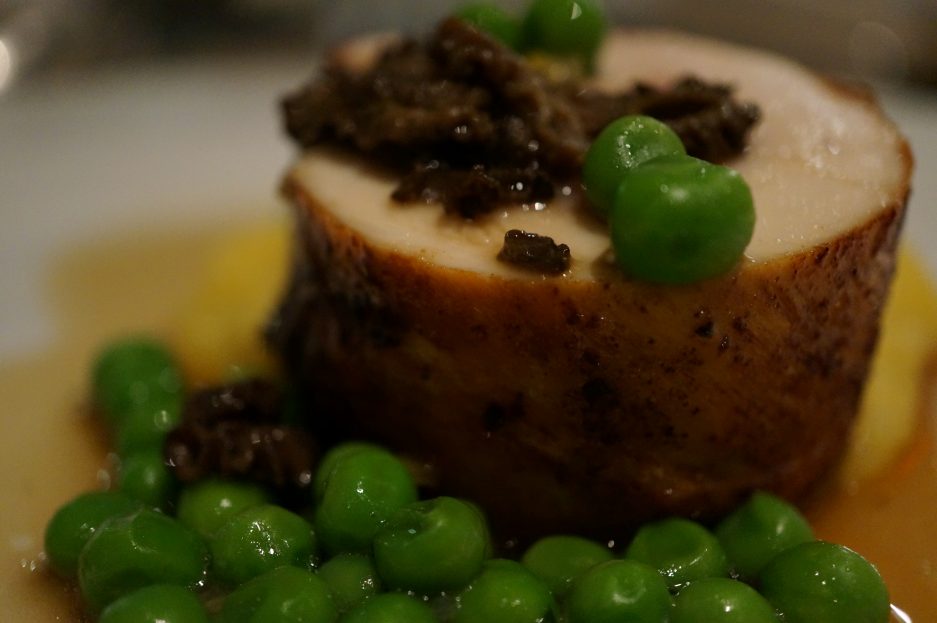 ---
Team Cheu did something a little less "homey" and a little more involved: Steelhead Trout, polenta cake, chard and a cauliflower-oregano puree (or in Jason's words, "Awesome Sauce").

---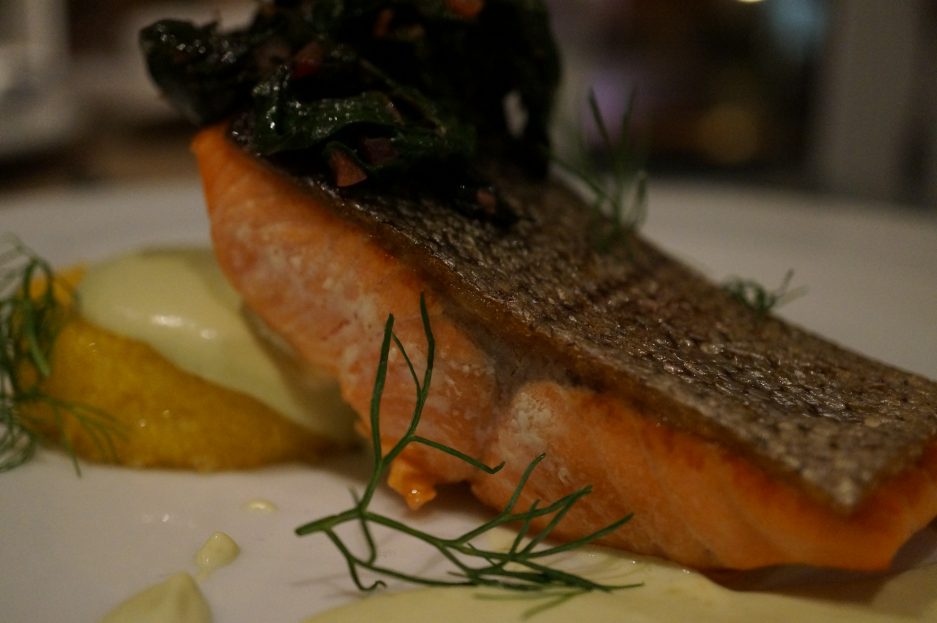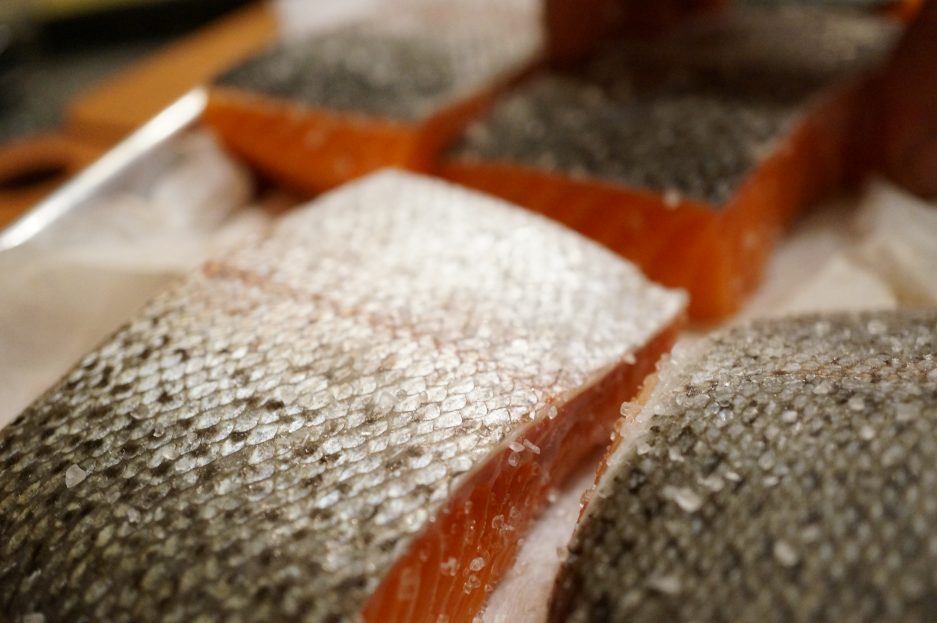 ---
Dessert for Team Cheu was what Chad called "fancy PB&J", and it was exactly that. But it could just as easily have been "fancy Fluffernutter". Vanilla cake, grapes, peanut butter mousse, with a toasted fennel marshmallow on top.

---


---
Team Will's dessert was a vanilla-rhubarb tart with caramel whipped cream and candied pistachios.

---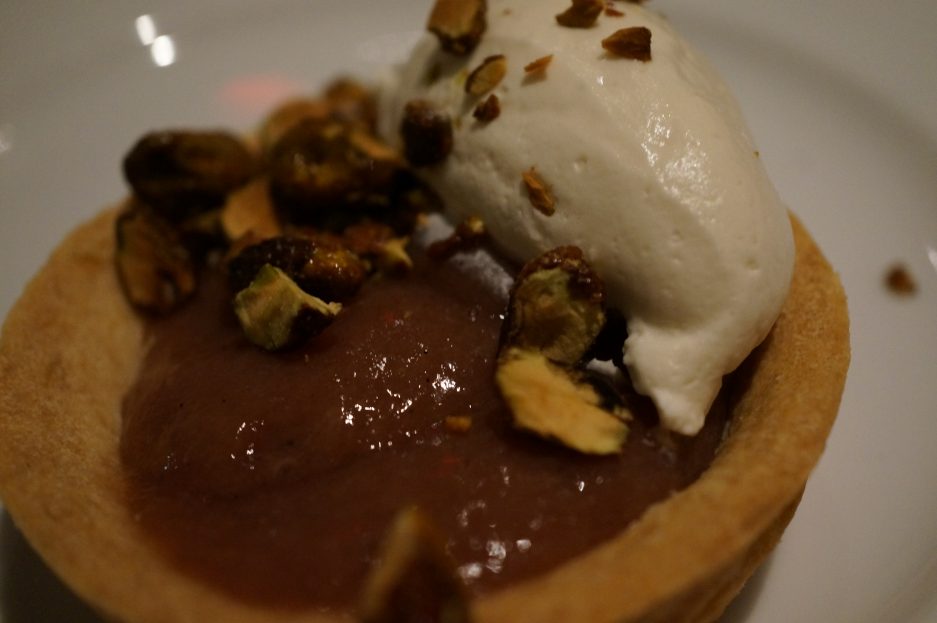 ---
Both teams cooked their hearts out, but there's no such thing as two winners. After the scores were tallied up (beer-points included), Team Cheu emerged the champion of Open Stove XXIII—a title worth bragging about.

---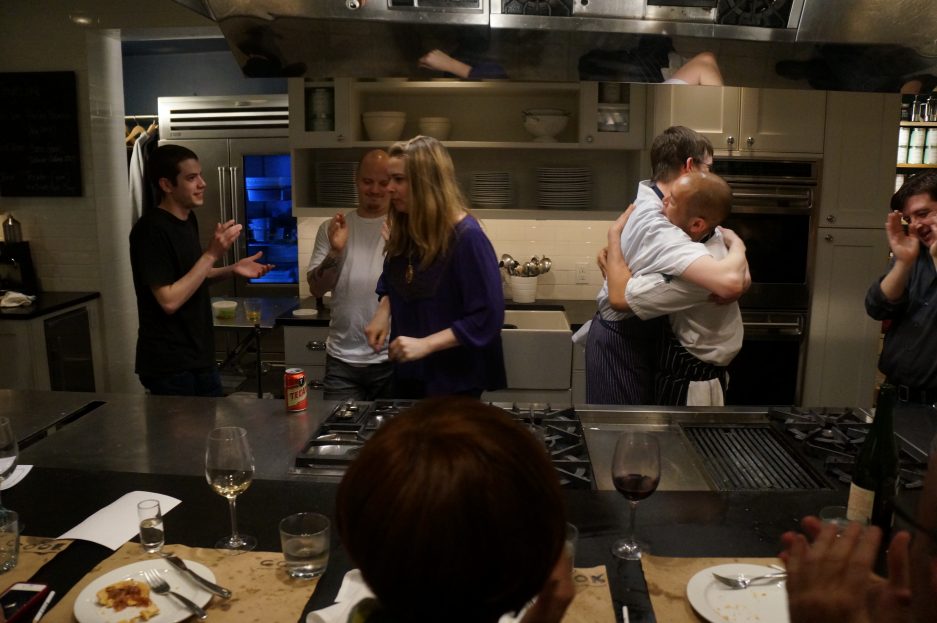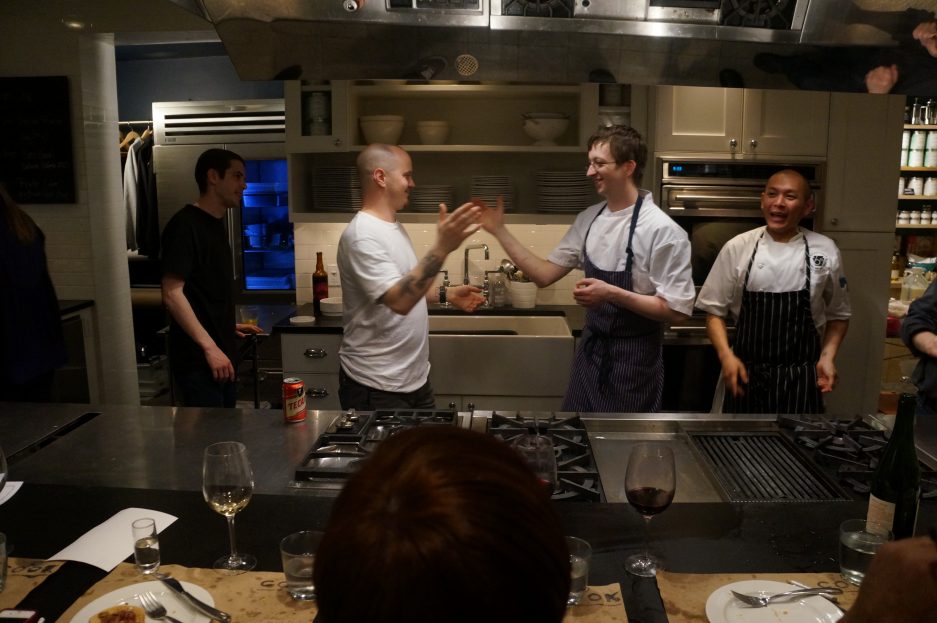 ---
All Open Stove Coverage [Foobooz]
---
---