About Last Night: Aldine Pop-Up At Cheu Noodle Bar
---
Last night the ramen-lovers at Cheu Noodle Bar had to satisfy their umami cravings with some lesser take out option, because the only menu on the table was George Sabatino's (executed along with Cheu's Ben Puchowitz and paired with cocktails by George's wife, Jennifer Sabatino) for a sold-out, one-night-only pop-up to showcase the kind of dishes we can expect to see at Aldine – the Sabatino's first restaurant, set to open in early June in the former NoChe space. Guests filled every seat for each of four on-the-hour seatings, and the food reflected Team Sabatino's earthy flavors and modern techniques, as well as a yearning for spring ingredients to arrive in Philly.
As all great ones do, this meal kicked off with bread service. Puchowitz's take on a buttermilk English muffin, steamed and then browned to order, served with a schmear of charred ginger butter.
The amuse bouche was a little cup of silky green garlic custard topped with charred asparagus, mesquite smoked trout roe, and burnt onion oil. The first course offered a silky little brick of rabbit rillette with rhubarb mustard, pickled rhubarb, fermented turnip, and pea leaves–a cool counterpoint to the silky bowl of dashi with thrice-cured Spanish mackerel, hearts of palm, and pickled kombu that followed.
But the dish of the night was lamb loin wrapped in lamb sausage spiked with cumin, garlic and parsley, served with a salad of green chickpeas and sprouted grains. Its partner on the plate was a chenna dumpling (think Indian ricotta) with lamb neck, glazed in a tomato and red pepper jam. The entire dish was aromatic with mint, lemon and a rosemary infused oil as well as dots of black garlic soy.
Carrot meringues, dusted with ginger and persian lime shifted from savory to sweet, and just as the meal began with a custard, it ended with one, this time a brown butter panna cotta with toasted almond crumble and a few berries.
If this is what the Sabatinos can do in Cheu's house, we can't wait to see what they do in their own.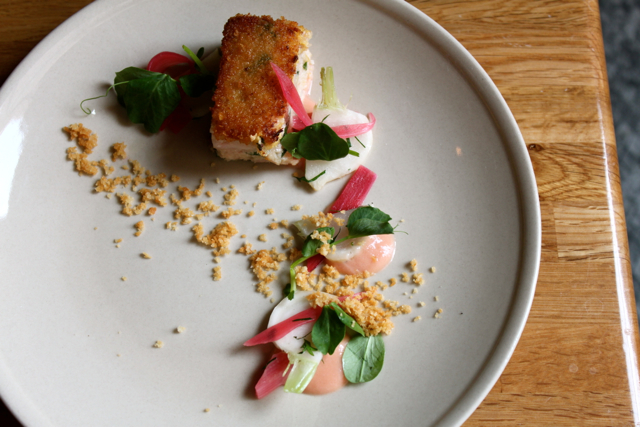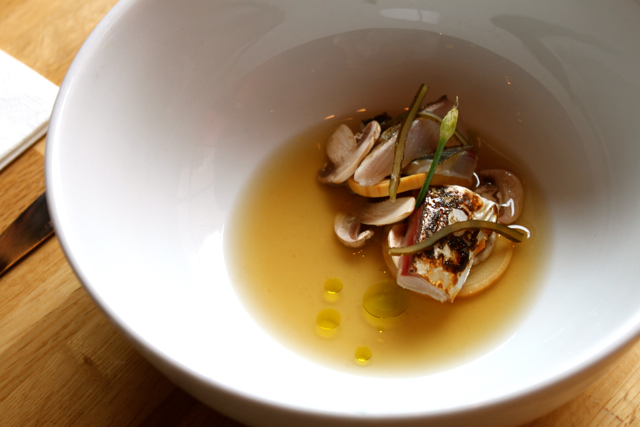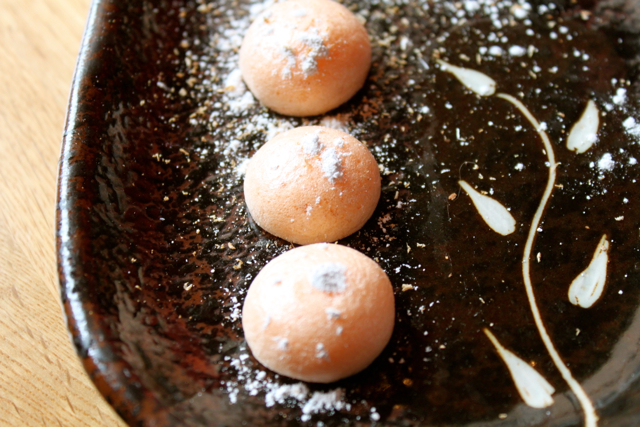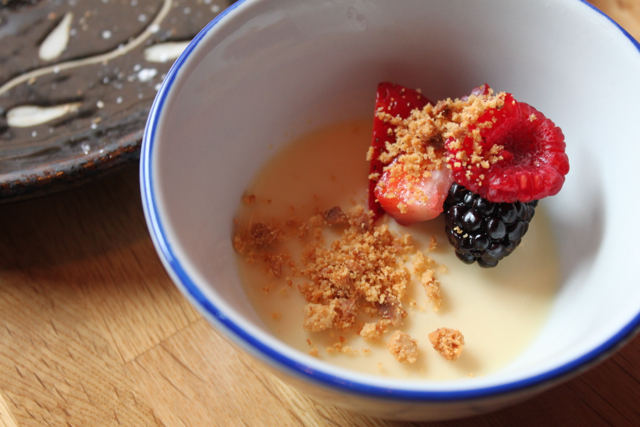 Aldine [Foobooz]
---