Fresher Salads at Morris'
---
Last week when Victor Fiorillo showcased the terrifyingly pale tomato he received from Saladworks we were struck with two thoughts; "oh my god that's disgusting" and "why didn't you go to Morris'?" Morris' for those not in the know, is the hidden in plain sight cafeteria and salad bar located in the United Plaza building at 17th and Ludlow.
[imagebrowser id=39]
The cafeteria is run by Starr Restaurants Catering and offers a reasonably priced food option for Duan Morris LLP lawyers and staffers looking for something quick, light and potentially healthy for breakfast or lunch.
The restaurant is also accessible to the public and has become something of a lunchtime staple around here when we're not sniffing around for gossip at Jose Garces spots or hitting up food trucks at Love Park.
The most popular option at MyPhillyLawyerSaladBar.com as Philadelphia Magazine staffers affectionately refer to the cafeteria is the salad station. For a reasonable $4.75 you can order a g00d-sized salad with five toppings and dressing. Buffalo chicken bites and grilled salmon are available as a $2.50 addition or get grilled chicken for just $1.50 more.
In addition to the salad station the cafeteria puts out daily pizza, deli and blue plate specials. There are even Weight Watchers specials such as today's potato stuffed with ham and Gruyere. Somehow that will only be 8 Weight Watchers points.
There's plenty of seating inside and out. Outdoors you can soak in some rays as you try and figure out if the Roy Lichtenstein sculpture is somehow a monument to bacon.
The produce is fresh and the staff courteous, and no frightening tomatoes have been spotted.
---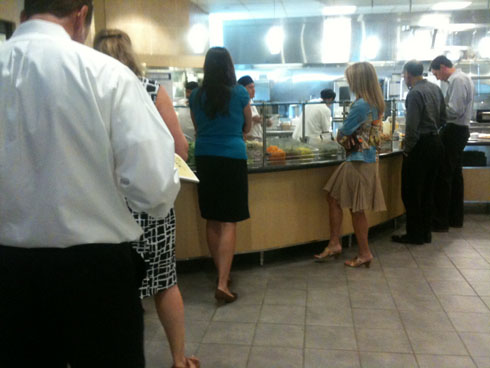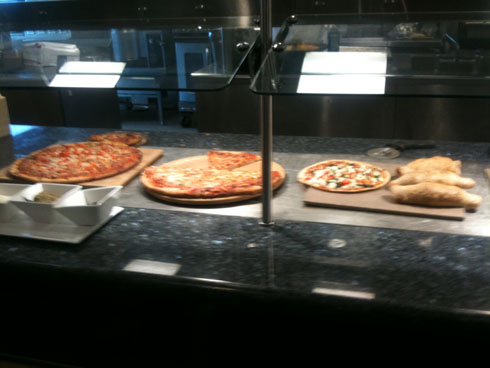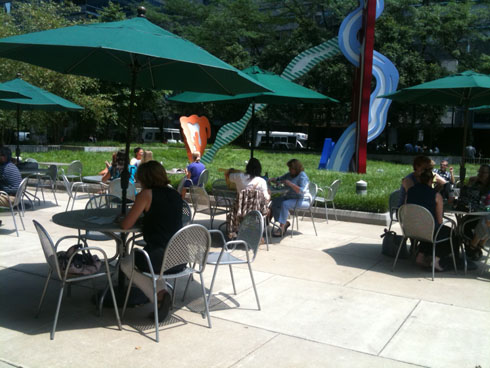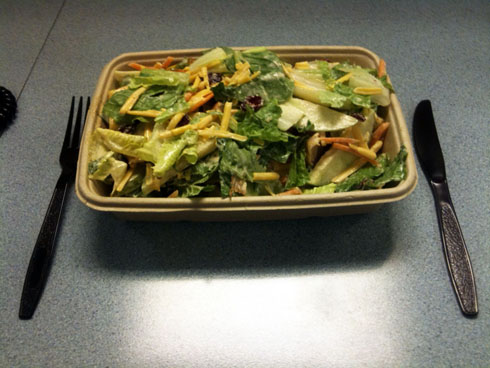 ---
---