Kevin Smith Says Plans for Philly-Shot Mallrats 2, Clerks 3 Are Dead
The Jay and Silent Bob director says plans for the two sequels, which were to be shot in the area, have been scuttled.
---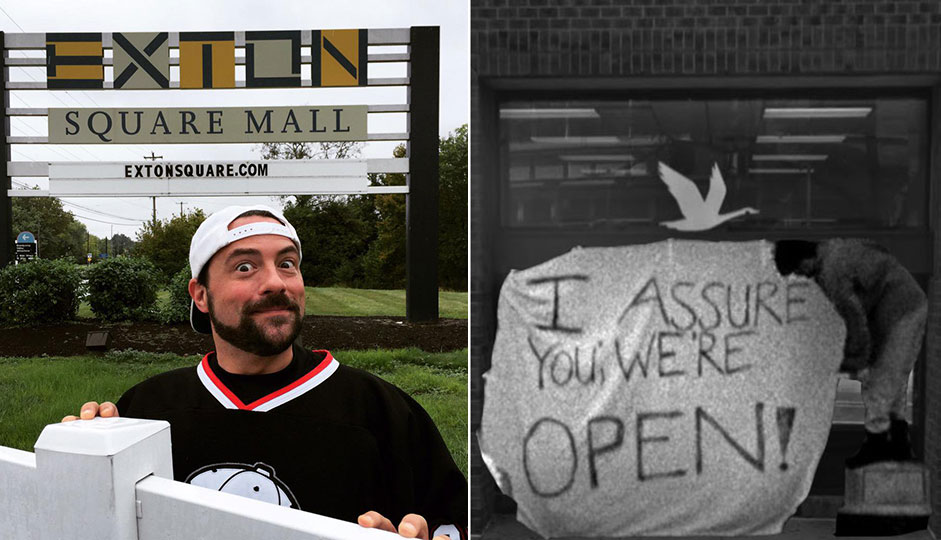 Kevin Smith won't be filming any sequels locally after all.
Smith made news in 2015 when he announced the Exton Square Mall would serve as the location for his upcoming Mallrats sequel (which has been called, variously, Mallrats 2 and Mallbrats). Earlier that year, the state announced it was giving a tax break for Clerks 3 to shoot in Philadelphia. Clerks 3 was supposed to start shooting in May of 2015; Mallrats 2 was supposed to start in January of last year.
Late last week on his Facebook page, Smith confirmed that plans for those two films are dead.
"Sadly, Clerks III can't happen (one of our four leads opted out of the flick)," Smith wrote on Facebook. "So I worked on a Mallrats movie instead… which also didn't happen because it turned into a Mallrats series. I've pitched said sequel series to 6 different networks only to find no takers thus far. Mind you, I'm not complaining: nobody gets to make EVERYTHING they wanna make in this business (do they?)"
Smith explains in the Facebook page that he doesn't own the rights to Clerks, Mallrats, Chasing Amy or Dogma. But he does own the rights to Jay and Silent Bob, the pair played by Jason Mewes and Smith himself. As such, Smith says he'll be making a new Jay and Silent Bob film. It's going to be "a fun flick in which the Jersey boys have to go back to Hollywood to stop a brand new reboot of the old 'Bluntman & Chronic Movie' they hated so much." Oh, goodie.
No word on where his new movie will be filming.
---