News
PHOTOS: Inside Turn5's Brand New Headquarters
A bowling alley is just one special feature at the e-commerce company's new digs.
---
Turn5, one of the region's fastest growing e-commerce companies, is officially settled in at its new headquarters in Paoli. The company, which specializes in selling after market auto parts for Mustangs, Jeeps and trucks, left Malvern to set up at a spacious and modern facility.
The company celebrated with a "ribbon-braking" ceremony on Monday, during which co-founders Steve and Andrew Voudouris and their uncle Caesar broke an orange ribbon by pulling it apart with two trucks.
Ribbon Breaking at the new beautiful #TURN5 location in #PaoliPA #Chesco #Congratulations! pic.twitter.com/wwrPpyNEHe

— ExpressPros ChesCo (@HiringChesCo) January 8, 2018
"Today is really all about the 400 passionate, driven people who show up for Turn5 every day," said Steve Voudouris, co-founder and CEO of Turn5 in a statement. "This new home is for them—for their creativity, their collaboration, the momentum we've achieved together and the future that's ahead."
Turn5 says the expansion will help the company add 183 new jobs over three years to its staff of 413 employees. To relocate, Turn5 invested $7.9 million and received some help from Pennsylvania. The state gave the team a $200,000 Pennsylvania First Program grant, a $45,000 in WednetPA funding for employee training, and $366,000 in job creation tax credits, which will be distributed as new jobs are created.
Governor Tom Wolf stopped by the event in his Jeep to wish the team well in its new space.
"I'm pleased to welcome Turn5 to its new home—right here in Pennsylvania," he said. "We recognized the company's proven success and its future potential, and that's why our Department of Community and Economic Development chose to support this Pennsylvania company and Pennsylvania move with a Pennsylvania First grant."
Proud of the work that Turn5 has done to grow their business right here in PA, and for their continued investment in the Chester County workforce. This new HQ will bring hundreds of new #JobsThatPay to the area, and will invest millions in the local economy. pic.twitter.com/VrIcFoxlJD

— Governor Tom Wolf (@GovernorTomWolf) January 8, 2018
Turns5's new headquarters completely embody the company's "work hard, play hard" ethos. Some of the campus's standout features include:
Huddle areas and conference rooms of various configurations, built to inspire teams and employees to break traditional molds of working together
State of the art video production space to produce high-output, consumer-facing video content for Turn5's websites and social media channels; includes video sets designed for various applications, an in-house dynamometer (used to measure the power output of engines) and installation garages
Café Breakroom with three garage doors that open to an expansive Wi-Fi-enabled outdoor patio to offer an open-air environment on nice days and three retractable projection screens; space can be used as a daily meeting place where teams can meet and work or for quarterly company meetings, industry gatherings and special events
Two coffee bars made from up-cycled shipping containers and staffed by in-house baristas and a fully stocked bar reserved for company special events
E-commerce lounge complete with a modular, customizable design (so the space can be rearranged for meetings, breaks and small team-building events), an entire wall of glass boards for quick notation and design planning and a large high-definition screen, and a hot dog machine
Full-size bowling alley and digital golf simulator, pinball, outdoor Baggo court and horseshoe pits to encourage teams to not only work together, but also play together
Customer Rides Wall, a huge montage of customer vehicles, and large-format prints of both customer and employee vehicles
Turn5 Timeline Wall and Core Values Mural that remind the team and all visitors where they company has been, where it's going and what's important
Photos of Turn5's new campus and the company's "ribbon-braking" ceremony are below:
---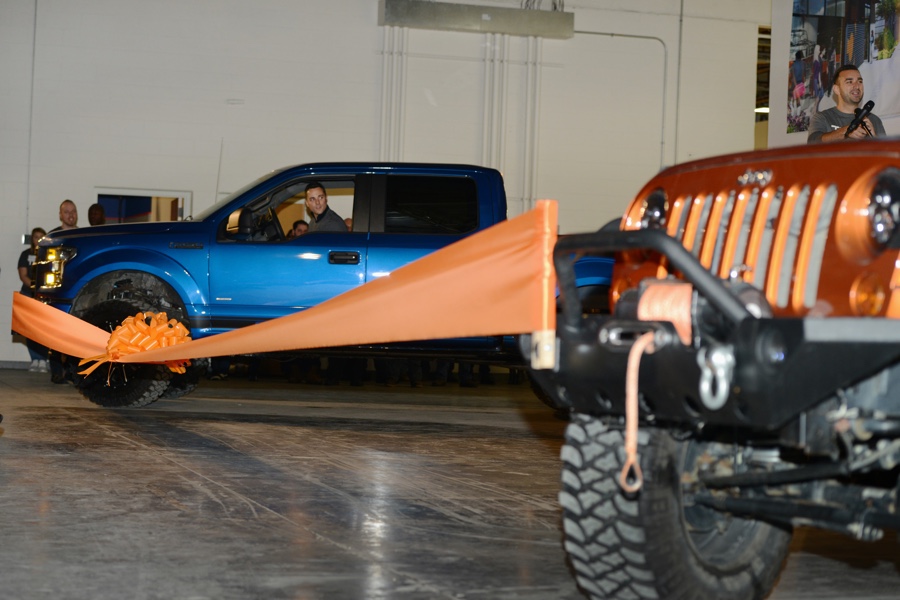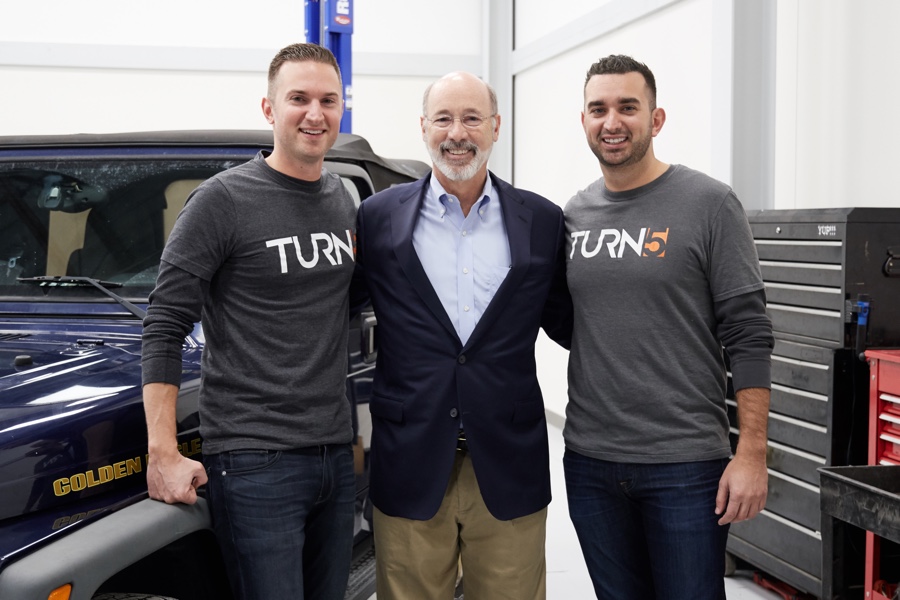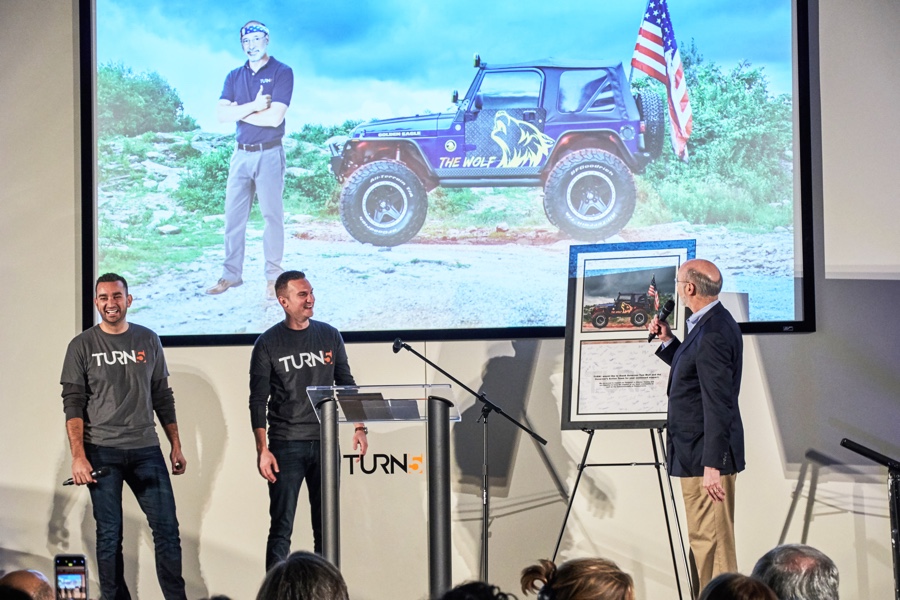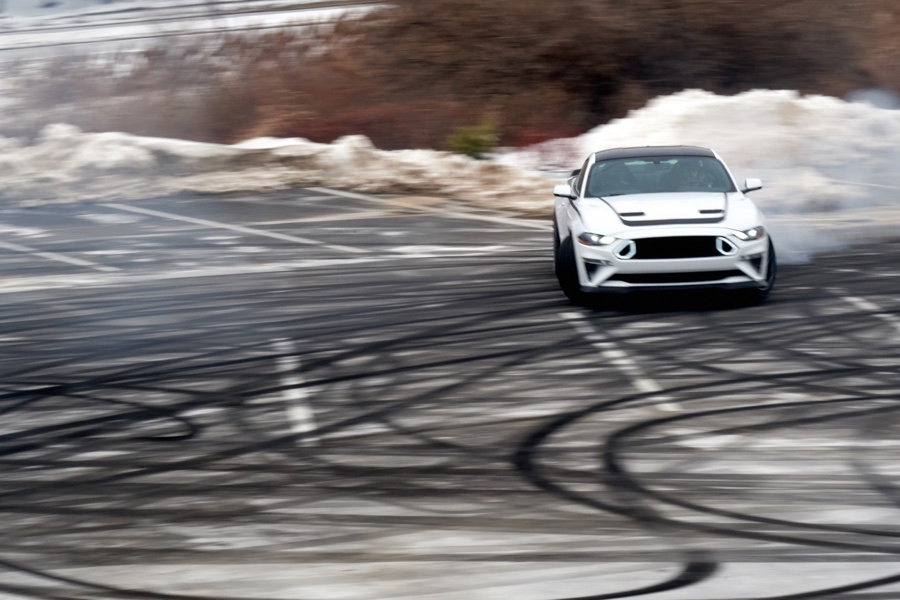 ---
---