Philly Millennials With Top Jobs and Good Teeth, Your Dating App Has Arrived
The League is getting ready to launch as the Philly-area waiting list nears 10,000.
---
Everyone's favorite dating app to hate — The League — has officially made its way to Philadelphia, and it's why you got a flood of LinkedIn notifications about locals who just updated their professional profiles.
Over the last two years, the dating app has become the world's most selective—to get in you can't be broke; you'll need high-grade headshots; and, respectable degrees with an equally respectable career are musts. And bring patience—lots of it if you really care. The platform has gotten its reputation for exclusivity by making people wait. Each applicant's LinkedIn profile and Facebook activity are thoroughly vetted, so no catfishes or underachievers.
An estimated 500,000 hopefuls worldwide are currently waiting to be admitted, and as of this week, 9,568 people in the Philly area have casted a request for entry.
Why all the thirst? According the startup's founder Amanda Bradford, dating apps tend to fall short for successful singles, and they're clamoring for a fresh option. The app's tagline is currently #GetMeOffTinder.
"Online dating has typically not been great, especially for women who receive offensive messages and photos," Bradford told me. And she called out users with subpar profiles. "There are so many profiles that people clearly haven't put a lot of time or effort into, and on certain apps, people just joke around and make fun of the process," she said, "so I wanted to mitigate these kinds of behaviors from the beginning and build a community from the ground up."
And Bradford candidly owned up to the marginal stalking most of us do before linking up with a match in real life. "We're doing online social media research about our matches on Twitter, LinkedIn and Facebook. It can get so repetitive and redundant if you're going on like two dates a week," said Bradford earnestly. So why not do the research for users and make all of the information available in-app, she thought. And again, the list of inputs ain't short. After assessing your education institutions, degrees, professional titles, number of referrals, preferences, and influencer status, an algorithm tallies up a score, and a human team reviews your photos. You won't be accepted with a keg stand action shot, Bradford explained.
She offered one last defense of the process: Statistics show that people tend to meet their spouse at school or at work, and The League is simply mirroring this model in a curated online environment.
In Philly, the community Bradford envisions is already taking shape. The League conducted a survey on the country's best cities for aspiring power couples and ranked Philadelphia 7th just behind Washington, DC. The app is currently live in only six cities — San Francisco, New York, Los Angeles, Boston, DC and London — and Philadelphia will be the company's seventh launch, the first of a 10-city summer rollout that's currently underway.
"Philadelphia is our golden child," Bradford said, "Our research told us we really needed get here next." At the center of the research was the observation that hordes of young people are moving from Philly to New York. "Even though people won't readily say it, everyone is looking for a long-term partner or a soul mate, and Philly gives millennials a chance to affordably settle down and raise a family," she added.
Philly will also allow the startup to come full circle. Bradford says Philly actually launched The League two years ago when Wharton students mistakenly got a notification about the platform while it was still in stealth mode. "They all ended up downloading the app and beta testing it," said Bradford, who was then 30 and finishing up her MBA at Stanford. She says Wharton is already the second most represented school on the platform after Harvard Business School.
Once the app goes live in Philly on June 13, exactly 2,001 people from the waitlist of nearly 10,000 — the Philly League's "Founding Class" — will be allowed to play in the virtual dating pool to start. Over time, the remaining applicants will be brought in according to recommendations and demand. Philly's founding class has already been determined, and Bradford wasn't shy about sharing the cohort's stats in this bright infographic: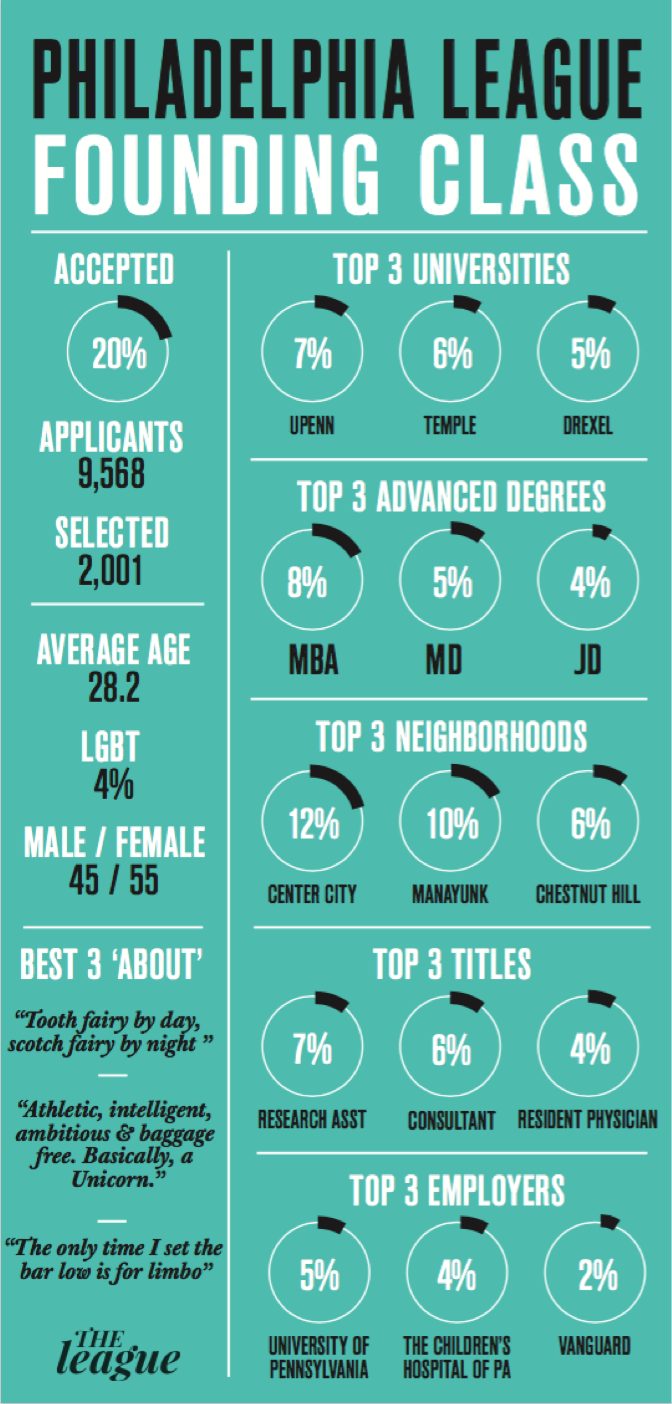 So who exactly are these Philly-area millennials willing to give The League a shot? The startup's recent launch party at Monarch gave me a good idea. For starters, I was prepared to be the only person of color in the room but was surprised to find a strong representation of minorities, though the room definitely wasn't representative of Philadelphia's population overall. I recognized faces from the startup, tech and media communities, and "eds and meds" rolled deep. Most groups of friends I approached were dating app veterans, and some were eager to have a new option, while others were skeptical and just there for a free drink.
"Dating apps are a necessary evil. I have a presence on them, but I don't rely on them solely to find my soul mate," Philadelphia media personality Stephanie Humphrey, told me. "With The League I like that the first layer of vetting it out of the way, and the privacy steps they take ensure your coworkers or Facebook friends can't see you're on it."
A 23-year-old Jefferson medical student and Penn State alumna, who's spent years on apps like Coffee Meets Bagel, Tinder, Bumble and the South Asian matchmaking app Dil Mil, said she was shocked she made it off the waitlist back home in D.C. "So many negative reports had come out about the app, and I really thought it was elitist but so far it's been a great experience."
Others weren't yet impressed. "Philly is a really small community. Here I feel like I know everyone, and I don't think people are as adventurous and willing when it comes to dating like people in New York," said a 26-year-old Penn dental student and Graduate Hospital resident who had apparently run into four different women he had been on dates with recently at the event.
His friend, a medical student at Penn, agreed. "I was just curious about what the social scene would be like here," the 26-year-old said. "I don't think The League will be the best way to meet people. The best way is in real life like at a coffee shop or clothing store, and not so much at bars."
Here are scenes from The League's launch party:
---

---
Follow @fabiolacineas on Twitter.
---
---