You must enter a value into the award field or select year.
2021 Best Kids' Classes
Looking for a healthy way for your kid to release some of the past year's stress? At 4 p.m. every weekday, this NoLibs fitness space gets youth ages seven to 17 practicing gloved punches. Jackson's upcoming after-school program will serve those needing mentorship and positive community ties. 926 North 2nd Street, Philadelphia, PA 19123, maleekjacksonfitness.com.
2021 Best All-Day Dining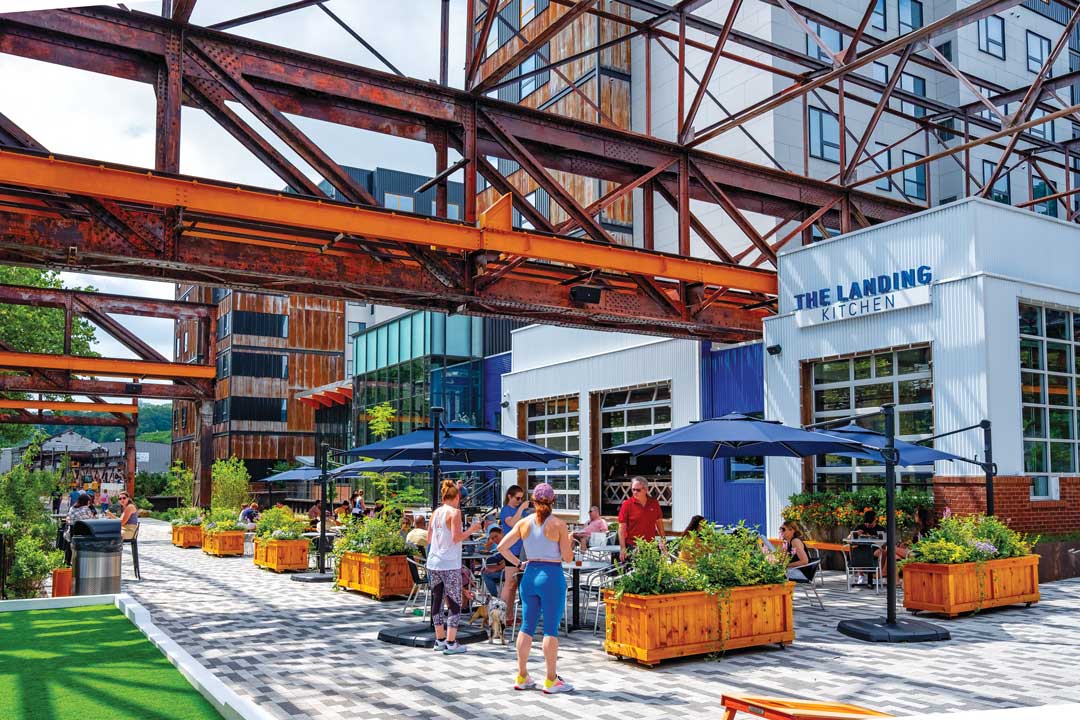 Up in Bala Cynwyd, Nick Elmi and Fia Berisha opened a little all-day cafe overlooking the Schuylkill, totally accessible to the ribbons of hiking and biking trails in the area. When you're done with your morning trek, there are expert coffee drinks, breakfast sandwiches and pastries. When you're about to go mountain-biking and need some fuel, there's a brioche grilled cheese served (if you want) with a hefty dollop of black caviar (you do). 617 Righters Ferry Road, Bala Cynwyd, PA 19004, thelandingkitchen.com/.
2021 Best Sidewalk Dining
When 2020 halted indoor dining, the city's restaurants took to the streets (and anywhere else you could jam a table). Some setups were rustic, and others looked like they were plucked from the sidewalks of Copenhagen and planted in Philly. Many of those — including Parc, Bar Bombón and Bud & Marilyn's — were the work of the Stokes team. 1700 Sansom Street, Philadelphia, PA 19103, stokesarch.com/eat.
2019 Best Public Art
Philly DJ legend King Britt and muralist Joshua Mays collab-ed on this experimental ode to Afro-futurism. To hear and see Philly's first augmented-reality mural, just download an app, wave your phone, and watch as the colorful display comes to life on your screen. 53rd and Media streets in West Philly. Muralarts.org.
2018 Best Shopping Event
The only thing better than combing through 35,000 square feet of salvaged furniture, fixtures, and only-in-Philly finds (like wood from the chocolate factory that's coming down at 21st and Washington)? Doing so on a Thursday evening, when this arch-salvage warehouse serves up free beer and bourbon. 2234 West Westmoreland Street, Philadelphia, PA 19140, philadelphiasalvage.com/.
2018 Best Shopping Event
Unless you're a celebrity, you probably don't often have the chance to rub elbows with fashion's in-crowd – think Yves Spinelli (founder of cool-girl jewelry line Spinelli Kilcollin) and Jonathan Simkhai (founder of the eponymous clothing line). Enter Joan Shepp, which throws must-attend parties featuring the designers behind some of your favorite brands. The best part? You don't need to be an A-lister to get in. 1811 Chestnut Street, Philadelphia, PA 19103, joanshepp.com/.
2018 Best Co-Working Space
Three times a week, you can blow kisses to the littles before climbing the stairs to the wi-fi-and-coffee-equipped loft. You'll get in some work (define work any way you want) while the kids are supervised and entertained in the giant play area. Register 24 hours in advance; the first hour is $18, and prices drop from there. 1241 North Front Street, Philadelphia , PA 19122, playartsphilly.com/.
2017 Best Fried Chicken
Fried chicken junkies, if you're looking to get your fix from different latitudes, you won't want to miss this Big Island version, where the bird is dipped in sweet rice flour, doused in furikake seasoning, and topped with togarashi-yuzu mayo. Psst: It comes on the lunch plate with two scoops of rice, macaroni salad and pickled red cabbage. Yum. 102 South 21st Street, Philadelphia, PA 19103, poidogphilly.com.
2017 Best Food Destination
Sure, Whole Foods has its problems. But it's hard to argue that the new Center City store's Restaurant Row is anything but amazing. After all, you can get ramen from Cheu Noodle Bar, hummus from Dizengoff and okonomiyaki fries from Wiz Kid in one place (plus some local beer to wash it all down). 2101 Pennsylvania Avenue, Philadelphia, PA 19130, wholefoodsmarket.com/.
2016 Best
Because sometimes all the people you know are busy or awful or both, there's DanDan. The menu features a long list of small plates, soups, noodles and vegetables that encourages grazing, and if you're looking to be left alone, the far-less-crowded upstairs dining room will give you space to enjoy your own company. Who knows? Maybe you'll meet some better friends while you're there. 126 South 16th Street, Philadelphia, PA 19102, dandanrestaurant.com/.
2016 Best Italian Restaurant
For decades, you had to rely on the waiters to recite what's available. Now they've finally gotten menus, but don't bother: We'll just tell you that you want linguine with the "primo" sauce (a combination of pork ragu and oil-and-garlic sauces), some baked clams, an antipasti salad, and a veal chop cooked on a real charcoal grill. Or, if it's Wednesday, ask for the whole veal breast special, something we can't even find in Philadelphia. 800 Kuser Road, Trenton, Trenton, NJ 08619, homestead1939.com/.
2016 Best Restaurant for Kids
Chef Jeremy Nolen clearly put as much thought into what went on his kids' menu as he did his grown-up one. The result: a list of little-one favorites (burgers, mac and cheese) made from scratch with quality ingredients. We suggest nudging your kids to order pappardelle with butter and cheese — it's creamy and simple in the best of ways — while secretly hoping they don't finish the whole plate. 700 South 5th Street, Philadelphia, PA 19147, whetstonetavern.com.
2016 Best Airbrush Tan
Moira Rubino understands that sometimes your schedule has you at its mercy. So she shows up at your door with her handy pop-up tent and organic golden-glow formula whenever you have a minute to get hosed down. Bring your friends: There are discounted group rates when she sprays a bunch of you at once. Service areas include the Main Line and select South Jersey towns; [email protected] 303 East Church Road, King of Prussia, PA 19406, moiraanne.com/services.html.
2015 Best Amusement Park
Some advice: Don't tell your kids that this year-old theme park is for children, or you'll have to fight them for the wheels of the real backhoes, dump trucks and excavators that can be driven and operated in a giant dirt pit. Instead, send them off to the rides, through the ropes course or to the stunt show, and catch up with them later. 100 Pinedge Court, West Berlin, NJ 08091, diggerlandusa.com/.