Amanda Neuber & John Haggerty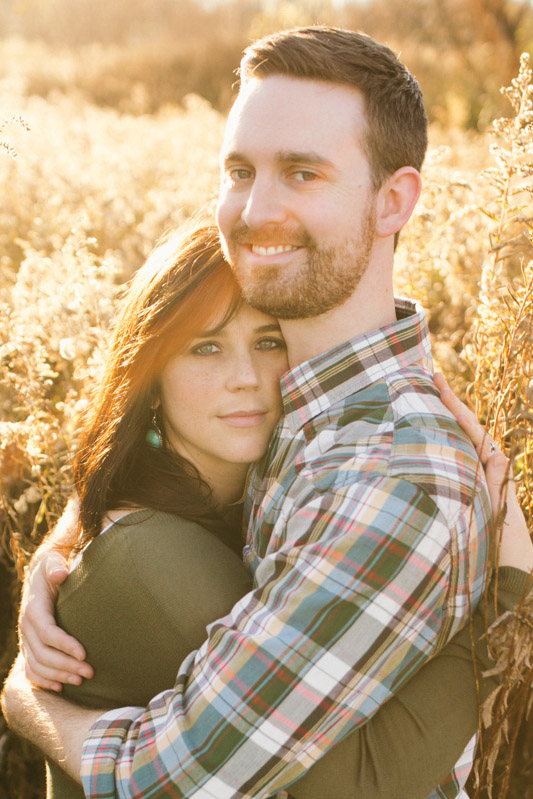 Wedding date: October 31, 2014
Location: Atrium at the Curtis Center, Philadelphia, PA
How did they meet?
BY AMANDA: My sister, Felicia, had recently started working at Cabrini College and invited her colleagues to hang out in our Fairmount neighborhood for the annual Bunny Hop. One such co-worker was John. We officially met that night – shook hands and everything. However, we hardly said two words to each other. I actually thought he was much younger, and may even be interested in Felicia. Afterwards, I said to Fe, "That John Haggerty is so cute. You should date him." Felicia's response? "Gross."
After our intial introduction, we continued running into each other for almost a year, but never made it past polite hellos and goodbyes. But for some reason, one February evening dance party at Fado Irish Pub changed everything. On this fateful night, we finally had our first real conversation. We clicked. But I was still wary of John's age, until, low and behold, he mentioned that we were the same age. I didn't believe him. So, after John proved how old he was by showing me his ID… the adventure began! It was love at first fast dance.
Three days later, February 29, 2012 (leap day!), we went on our first date to Matyson. Over dinner we talked psychology, photography, the meaning of life, and yes, even marriage. It was one of those "when you know, you know" moments that everyone hears about but no one believes. There was never a doubt.
Engagment Story
BY JOHN: June 29, 2013, Amanda had a short errand in the morning. Before she left, she mentioned wanting to get her nails done and go to the movies later that day. I just nodded my head and agreed. "Ok, see you when you get back," I said in my most nonchalant demeanor. The minute the door shut, my plan sprung into action.
Amanda, unknowingly, was going on a scavenger hunt. I had contacted a handful of places that have some significance to us, and asked if they'd be willing to help out in a small part of my proposal. They were: The Urban Saloon (where we first met), Fado Irish Pub (where we really met), A.Kitchen (where my brother, Mike, was working), Matyson (our first date), The Academy of Natural Sciences (our first work date), and, finally, the Philadelphia Art Museum stairs (our favorite place in Philadelphia). For each of these places, I had designated a card with a written clue inside to help her figure out the next place she was going. She was also able to "phone-a-friend" for each clue if in case she needed help, or emotional support.
I left the first card on the front door to our apartment.
Soon, I received the inevitable text from Amanda trying to figure out what was happening (which included a bunch of "???!?!??!?!"). I just replied with a "You have your clues, no texts, no calls."
I "hired" our friend, Gary, to fulfill the only proposal request Amanda had, that it be photographed. After a while, Gary and I spotted her car coming down the Parkway and around to the back of the Museum. After parking, Amanda walks towards me with a confused/hysterical smile on her face. She clearly knows what's happening by now. Sweating, I catch Gary darting into a nearby bush to set up. She spots him. It's over. Waterfalls. I go up to her (she says she blacked out by this point), hug her as she's sobbing, and kneel down to ask her what she's doing for the next 60 years or "sometin'" (borrowed from Rocky/wasn't planned). Then I ask "Will you marry me?" and opened the ring box. The words sounded so strange and the moment so vivid I felt like it almost wasn't real.
She said yes.
There was a crowd of people gathered, and I heard gasps and applause. Then I got up to hug her and she yelled "GARY!" She ran over and gave him a hug. Tears everywhere, she seemed completley disoriented. Mission accomplished. I quietly asked her if I could put the ring on her finger. "Oh, yeah! The ring!" The ring, by the way, stunning, and she immediately fell in love with it. She told me she was starving, and now that it was all over, I was too. We stalked a Mr. Softee ice cream truck at the base of the stairs, and it wound up being a great photo op. Right after that, I whisked her away to go see her parents in the foreign land of New Jersey, and, oh yea, attended a surprise engagement party that night at our house.
To be continued forever…